Lǚ Jì (Lü Chi, traditional: 呂紀, simplified: 吕纪); ca. (1477-unknown) was a Chinese painter of primarily bird and flower works during the Ming Dynasty (1368–1644).
"Lü Ji's Scroll of Lotus, Eagle, and Egret" is a renowned masterpiece in Chinese art history. The painting depicts a scene featuring lotus flowers, an eagle, and an egret. The author of this artwork is Lü Ji, a Chinese painter from the Ming Dynasty (approximately the mid-Ming period), known for his landscape and flower-bird paintings. With delicate brushwork and exquisite technique, the painting vividly captures the graceful charm of the lotus, the majestic presence of the eagle, and the graceful posture of the egret.
This painting holds significant importance in Chinese art history and represents one of the peaks of Ming Dynasty flower-bird painting. It showcases the artist's keen observation of the natural world, profound understanding, and artistic expression of life's beauty and emotions.
"Lü Ji's Scroll of Lotus, Eagle, and Egret" is a precious heritage of Chinese painting, exemplifying traditional Chinese painting techniques and aesthetic sensibilities. It serves as an outstanding example for appreciating the mastery of Chinese traditional artistry and aesthetics.
I tried to use gold color to enhance the artistic depiction of the lotus and added the calligraphy for "Eagle."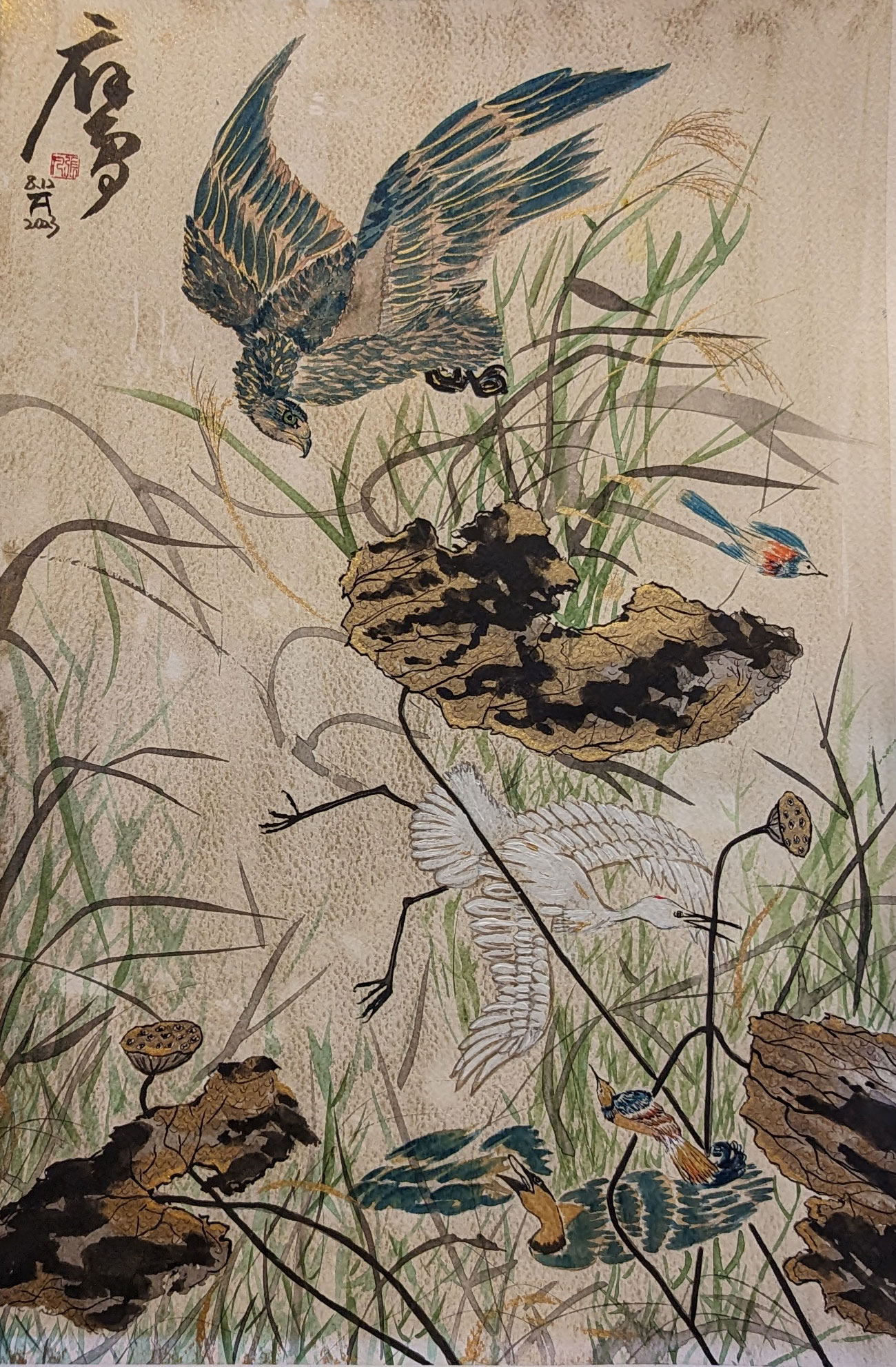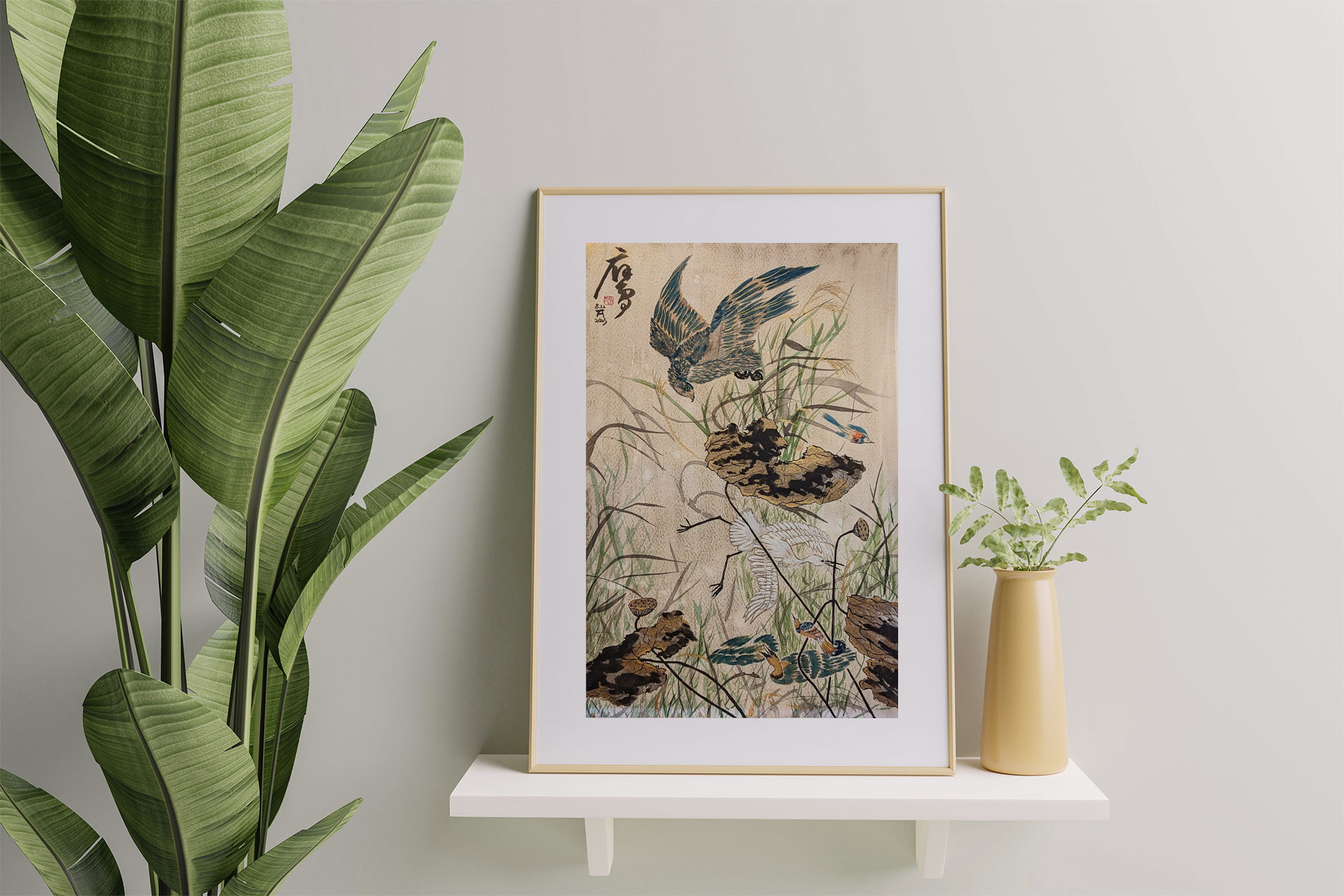 "吕纪残荷鹰鹭图轴" 是一幅传世名画,它描绘了荷花、鹰和鹭的景象。这副画作的作者是中国明代画家吕纪(约为明代中期的画家),他以山水和花鸟画闻名。这幅画以细腻的笔触和精湛的技巧,将荷花的婀娜多姿、鹰的雄风和鹭的婉约表现得淋漓尽致。
这幅画作在中国艺术史上具有重要地位,代表了明代花鸟画的高峰之一。它展示了艺术家对自然界的细致观察和深刻理解,以及对生命的赞美和情感的表达。
"吕纪残荷鹰鹭图轴" 是中国绘画艺术的珍贵遗产之一,也是欣赏中国传统绘画技巧和审美情趣的绝佳范例之一。
吕纪(1477-?),明代画家,字廷振,号乐愚,鄞县(今浙江省宁波市)人。以花鸟画著称,初学边景昭工笔法,亦受林良水墨法影响,后临仿唐宋诸家名迹,遂自成一体,独步当代。其花鸟画风呈两种面貌,一作工笔重彩,精工富丽,多绘凤鹤、孔雀、鸳鸯之类,辅以树木坡石、滩渚流泉背景,既具法度,又富生气。另一类为水墨写意画,粗笔挥洒,简练奔放,接近林良的风格。他亦兼善人物、山水,宗法南宋马远、夏圭画法。他的花鸟画风在当时宫廷内外影响甚大,继承者不乏其人。