Li Bai's poems are gorgeous, profound in artistic conception, and hit people's hearts directly. "Jiang Jin Jiu" is my favorite poem. My English translation is far from expressing the beauty of poetry. So let Kitagawa Kamarou's Ukiyo-e beauty make up for that part.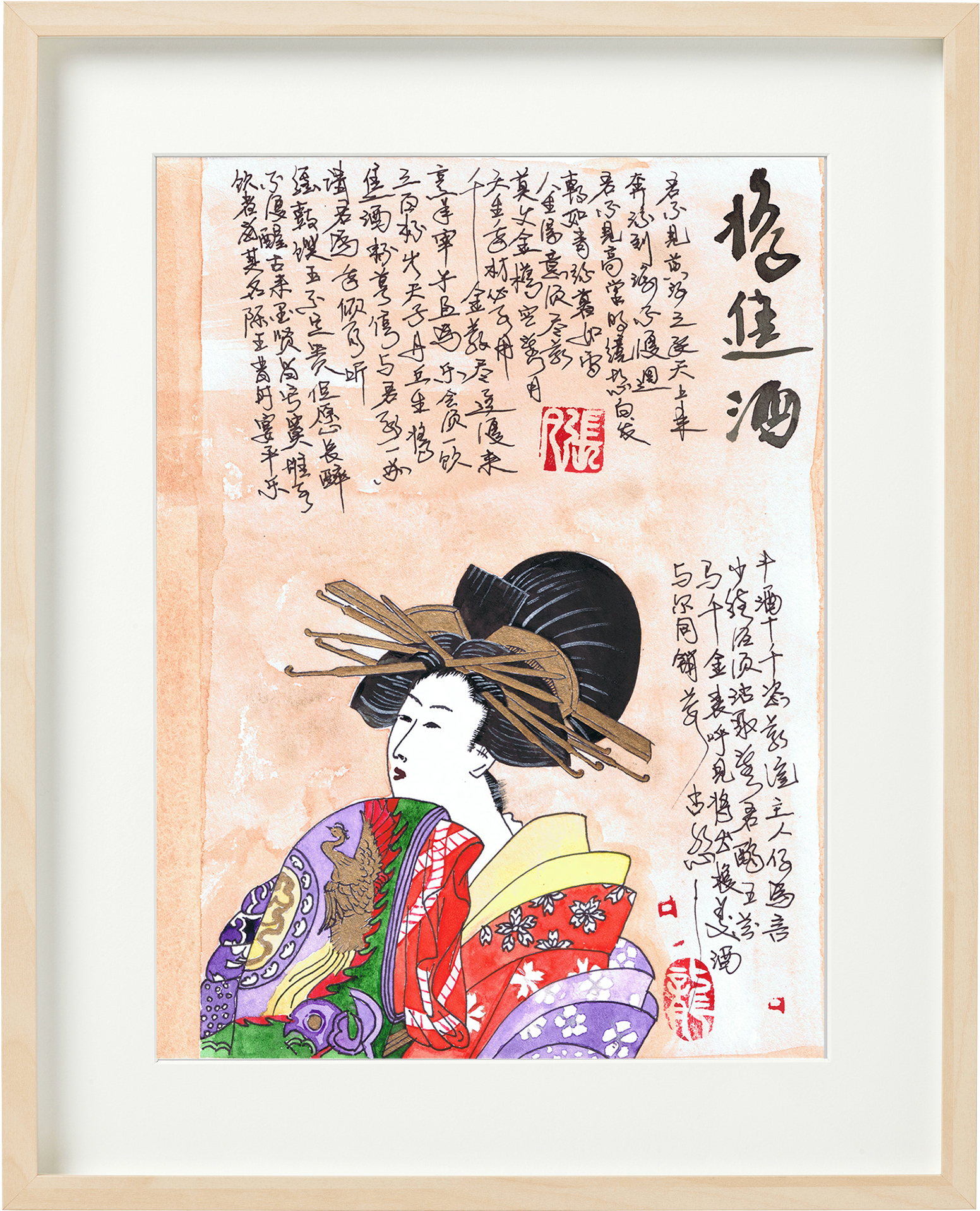 Please drink
Have you ever seen the Yellow River fall from the Heaven, flow into the sea, and never return;
Have you ever looked in the mirror on the high hall, seeing gray hair makes me sad, Hair black as silk when I was young, pale as snow in the twilight age.
When you have happy moments in your life, drink the wine and enjoy these moments. Don't let the golden cup face the bright moon.
I have a natural talent and I must have my place. Even if I lose all my property, I can still earn it back.
Cooking sheep and killing cattle, let us celebrate this moment of happiness, Let's drink three hundred cups.
Master Cen, Mr. Dan Qiu, We drink, Don't stop drinking the wine in your hand.
Let me sing a song for everyone, Please listen to the music carefully.
Bells, drums, beautiful music, and exquisite meals are nothing to me. I just want to indulge in the wine and never wake up.
From ancient times to the present, the saint and the guru have been so lonely, Only good drinkers left their names.
Chen Wang, Cao Zhi once hosted a banquet in the Pinle Hall, drinking famous wines and having fun. A barrel of fine wine costs 10,000 yuan, just to entertain relatives and friends.
The host, why do you say that you have run out of money? Then we should buy wine so that we can drink freely!
Bring precious horses, take out luxurious fur, and let the children exchange for all the fine wine,
I want to use these thousand glasses of wine drinking with you to resolve endless sorrows.
將進酒
君不見黃河之水天上來,奔流到海不復回。
君不見高堂明鏡悲白髮,朝如青絲暮成雪。
人生得意須盡歡,莫使金樽空對月。
天生我材必有用,千金散盡還復來。
烹羊宰牛且爲樂,會須一飲三百杯。
岑夫子,丹丘生。將進酒,杯莫停。
與君歌一曲,請君爲我側耳聽。
鐘鼓饌玉不足貴,但願長醉不願醒。
古來聖賢皆寂寞,惟有飲者留其名。
陳王昔時宴平樂,斗酒十千恣讙謔。
主人何為言少錢?徑須沽取對君酌。
五花馬,千金裘。呼兒將出換美酒,與爾同銷萬古愁。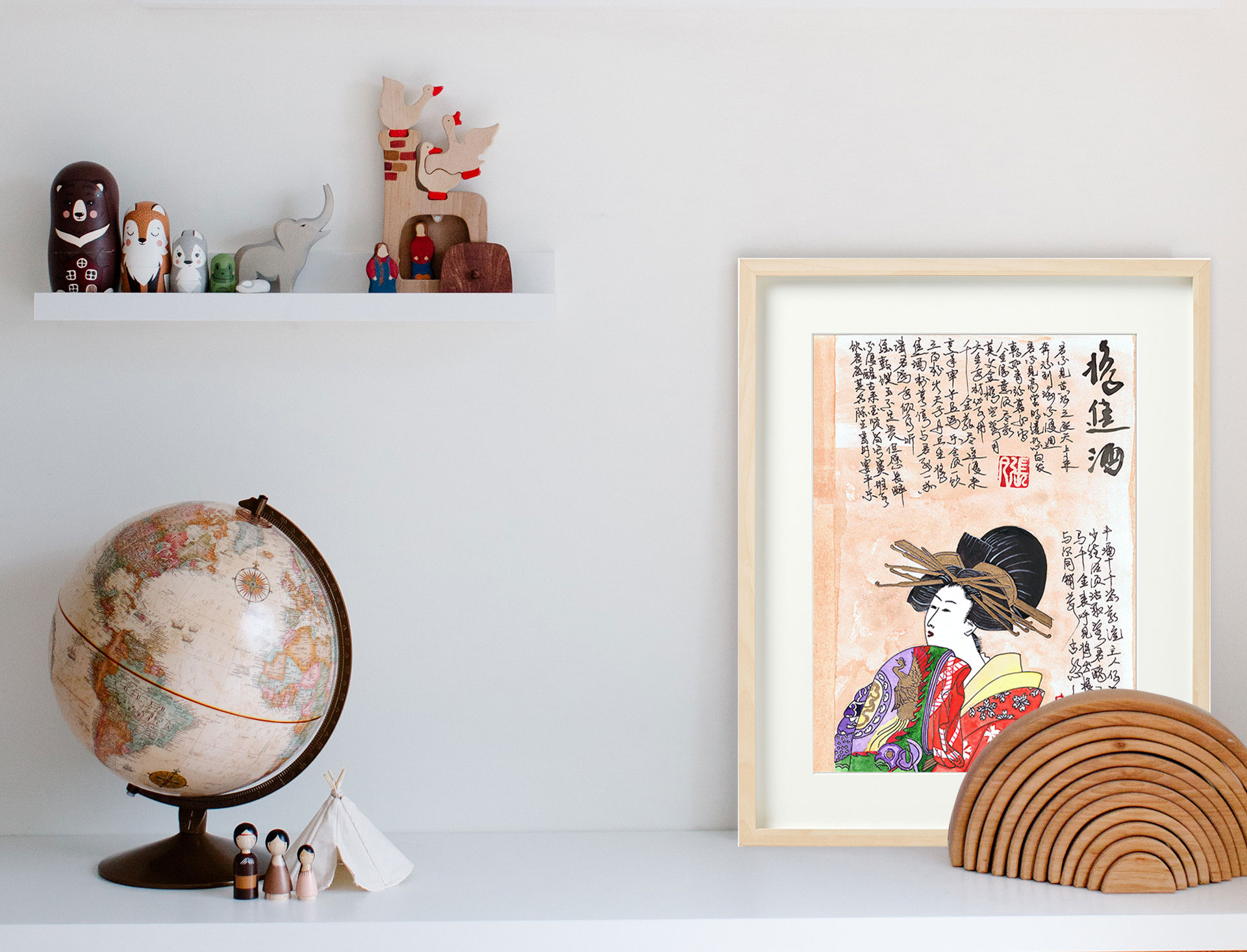 Tags:
#Watercolor, #asianart, #fanstanbrough, #floatingworld, #japaneseart, #japanvintage, #KitagawaUtamaro, #onceinalifetime, #orientalart, #savorthemoment, #ukiyoe, #woodblock, #zenart, #kabuki, #kabukiactor, #libai, #poem, #shunsen, #tangpoet, #homedecor #wallpainting #wallart #thegalleryofart