"Cranes and Pine" is a famous painting from the Ming Dynasty of China, created by the artist Lin Liang (林良), can be referred to as "松鹤图" (Sōng Hè Tú) or "松鶴圖" in traditional Chinese characters. Lin Liang was a renowned painter during the Ming Dynasty, known for his skillful depiction of nature and wildlife. "Cranes and Pine" is a classic example of traditional Chinese landscape painting.
In this painting, Lin Liang combines two symbolic elements commonly found in Chinese art: cranes and pine trees. Cranes are considered symbols of longevity and immortality in Chinese culture, while pine trees represent resilience and strength because they remain green throughout the year, even in harsh conditions. The combination of these elements conveys a sense of harmony with nature and a wish for a long and prosperous life.
The painting typically features cranes gracefully standing amidst a backdrop of towering pine trees. Lin Liang's mastery of brushwork and attention to detail is evident in the delicate rendering of the cranes' feathers and the texture of the pine needles. The composition of "Cranes and Pine" is often balanced and harmonious, reflecting the traditional Chinese aesthetics of balance and harmony in nature.
This painting, like many other Ming Dynasty artworks, is treasured for its beauty and cultural significance. It embodies the traditional Chinese values of reverence for nature, longevity, and the pursuit of a harmonious life. "Cranes and Pine" by Lin Liang remains an enduring masterpiece that continues to inspire and captivate art enthusiasts and scholars to this day.
It is signed and sealed with my seals (name and dragon).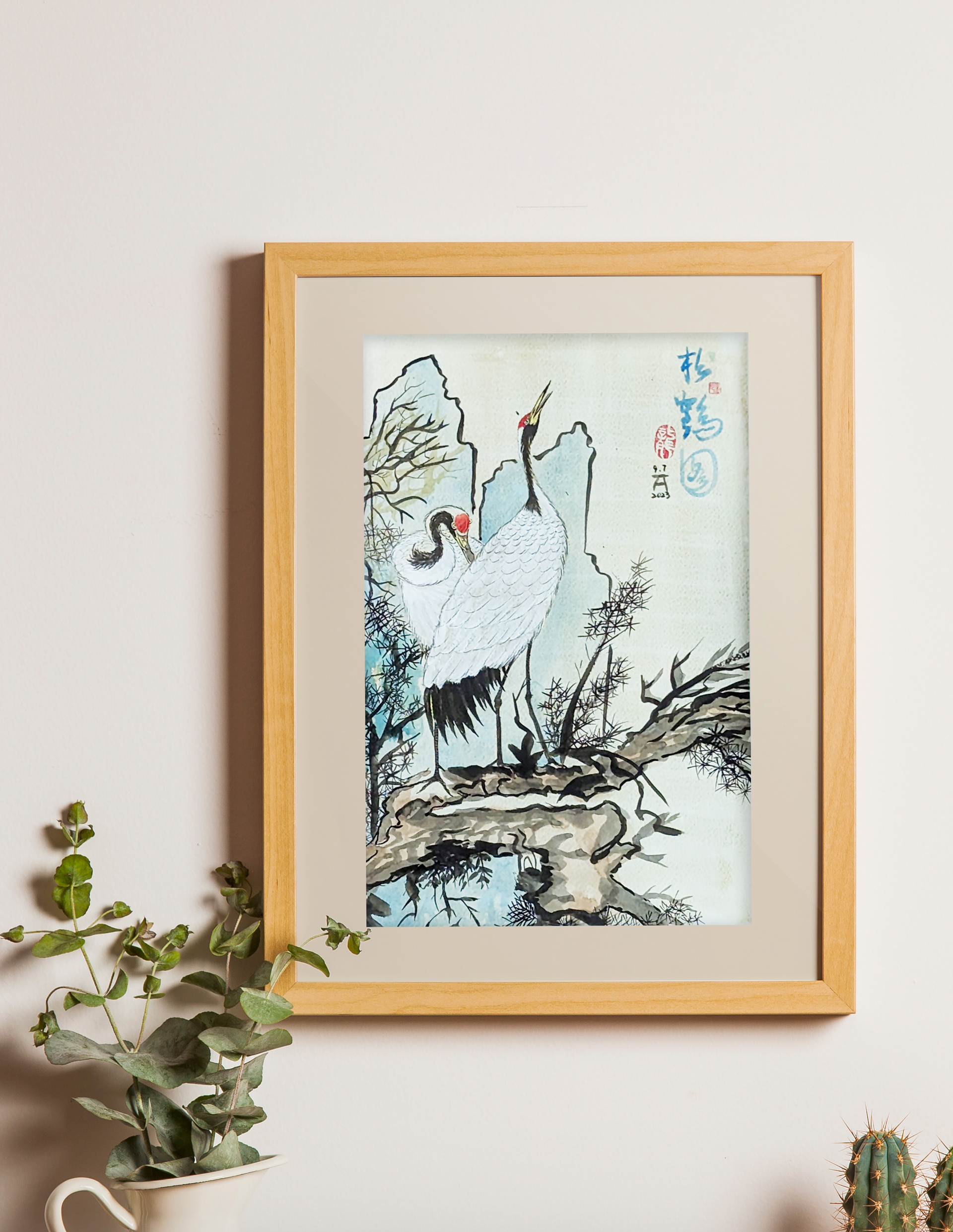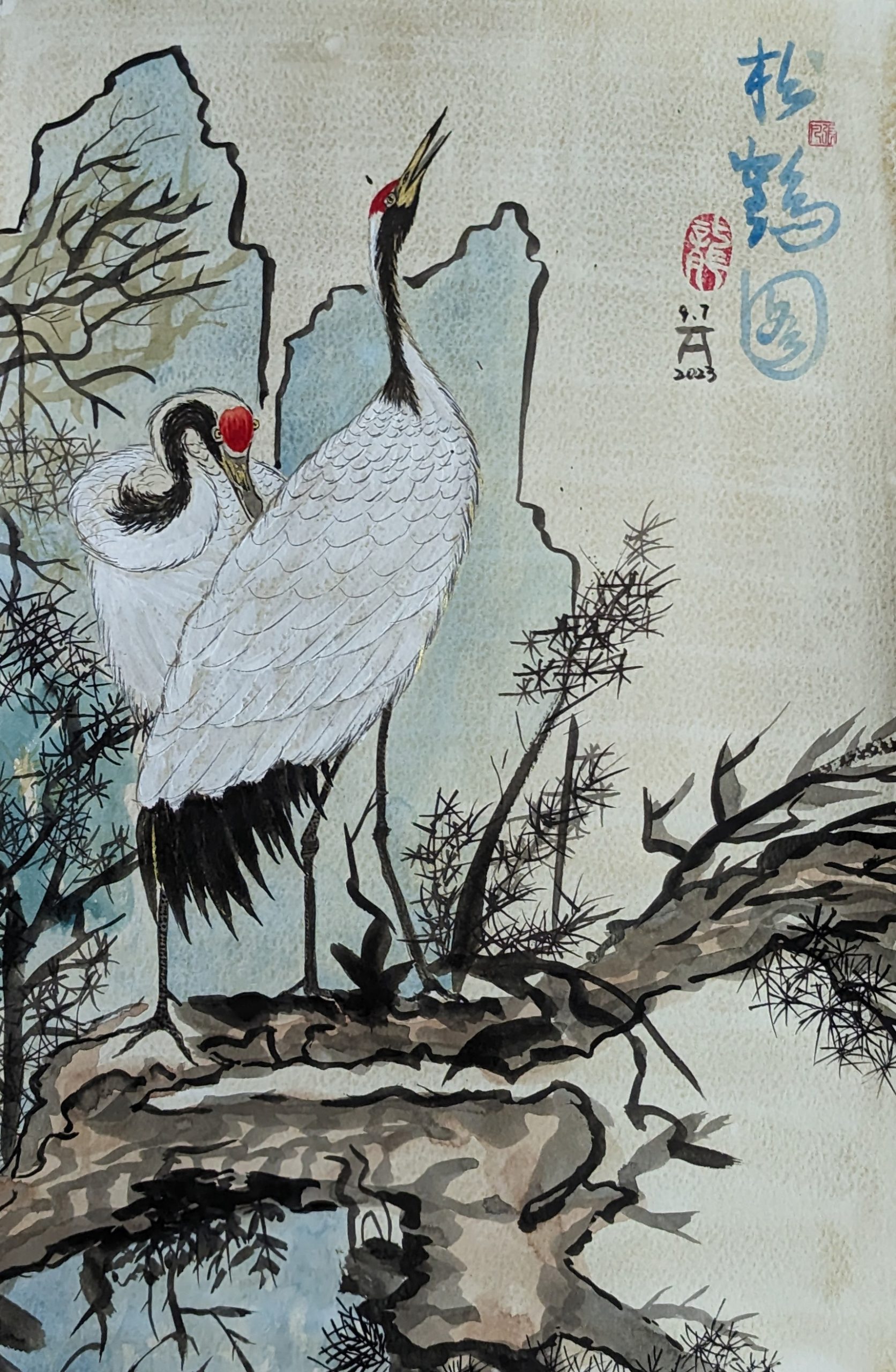 《松鹤图》是中国明代著名画家林良创作的著名绘画作品。林良是明代著名的画家,以其精湛的自然和野生动物描绘技巧而闻名。《松鹤图》是中国传统山水画的经典范例。
在这幅画中,林良将中国艺术中常见的两个象征性元素相结合:鹤和松树。鹤在中国文化中被视为长寿和不朽的象征,而松树代表着坚韧和力量,因为它们在一年四季都保持着绿色,即使在恶劣条件下也是如此。这些元素的组合传达了与自然和谐相处的感觉,以及对长寿和繁荣生活的美好祝愿。
这幅画通常呈现出鹤在高大的松树背景下优雅站立的场景。林良的毛笔技艺和对细节的关注在鹤的羽毛和松针的质感上都表现得非常精致。《松鹤图》的构图通常是平衡和和谐的,反映了中国传统美学中关于自然平衡与和谐的价值观。
这幅画像许多其他明代艺术品一样,因其美丽和文化意义而备受珍视。它体现了对自然的尊崇、长寿以及追求和谐生活的中国传统价值观。林良的《松鹤图》依然是一幅令人陶醉和启发艺术爱好者和学者的永恒杰作。