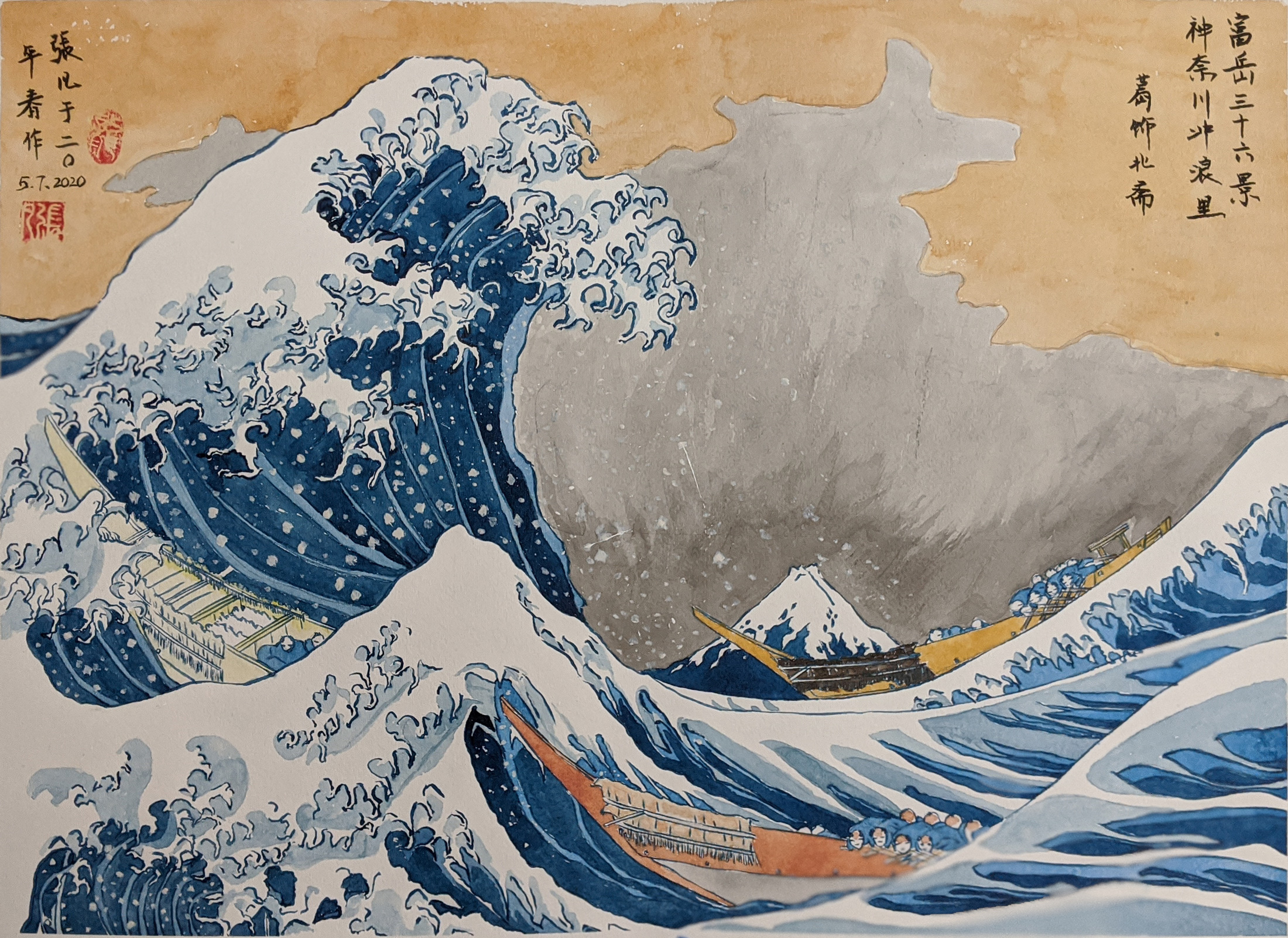 The Great Wave off Kanagawa (Japanese: 神奈川沖浪裏, Hepburn: Kanagawa-oki Nami Ura, "Under the Wave off Kanagawa"), also known as The Great Wave or simply The Wave, is a woodblock print by the Japanese ukiyo-e artist Hokusai. It was published sometime between 1829 and 1833 in the late Edo period as the first print in Hokusai's series Thirty-six Views of Mount Fuji. It is Hokusai's most famous work and one of the most recognizable works of Japanese art in the world.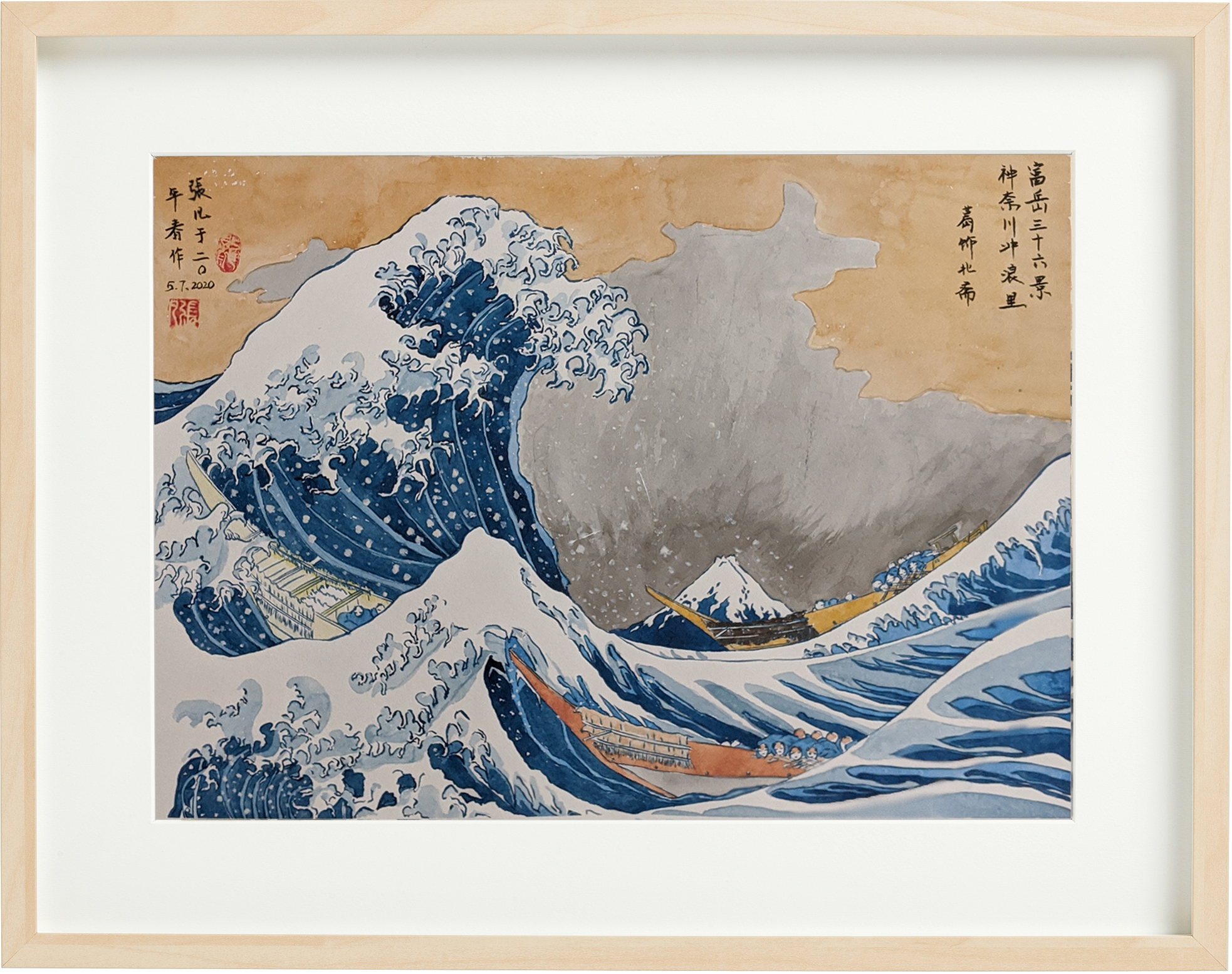 The image depicts an enormous wave threatening three boats off the coast of the town of Kanagawa (the present-day city of Yokohama, Kanagawa Prefecture) while Mount Fuji rises in the background. Sometimes assumed to be a tsunami, the wave is more likely to be a large rogue wave. As with the other prints in the series, it depicts the area and activities around Mount Fuji under varying conditions. Throughout the series are dramatic uses of Berlin blue pigment.
Original impressions of the print are in many Western collections, including the Metropolitan Museum of Art, the British Museum, the Art Institute of Chicago, the Los Angeles County Museum of Art, the National Gallery of Victoria in Melbourne, and Claude Monet's home in Giverny, France. – wikipedia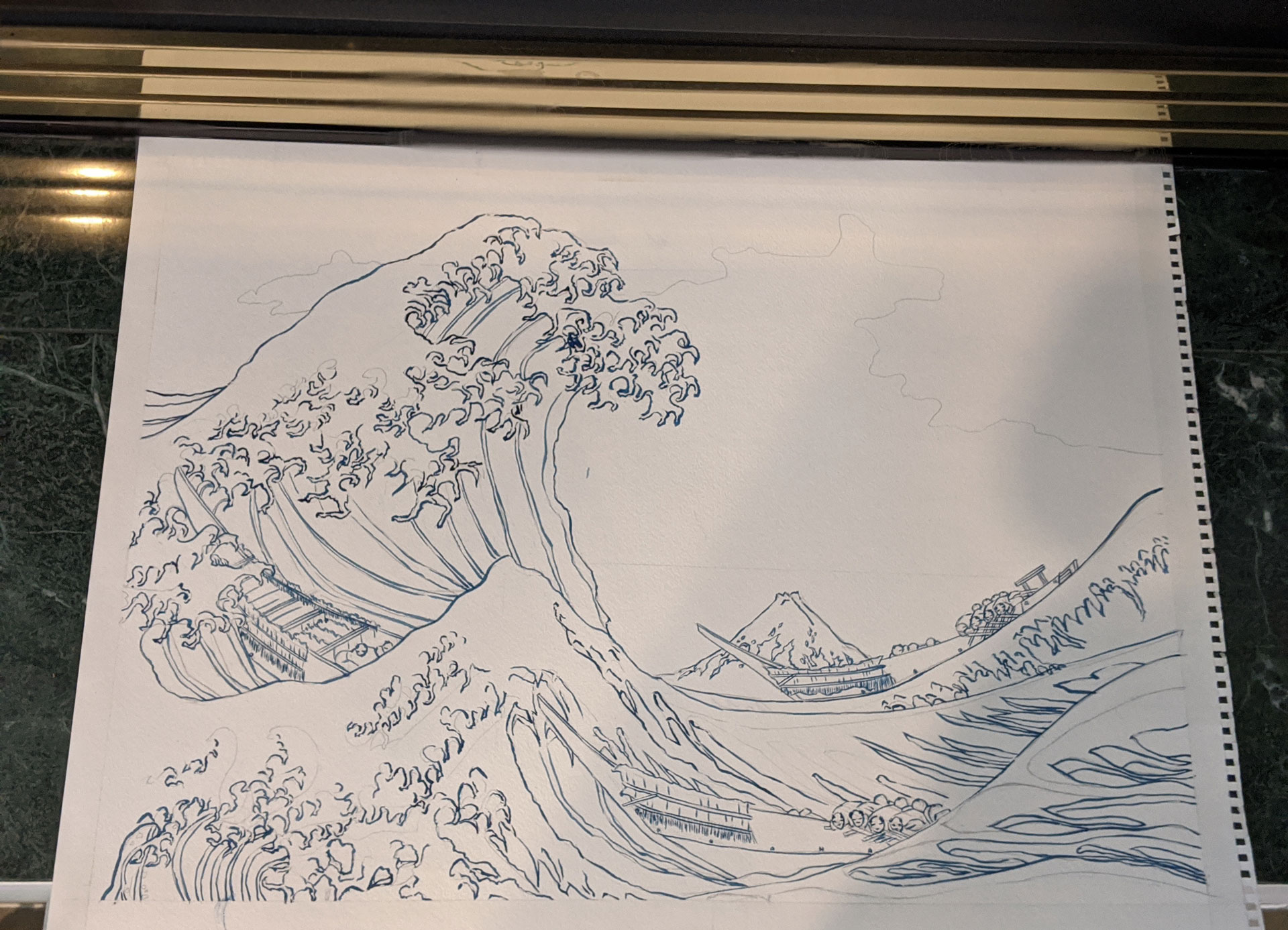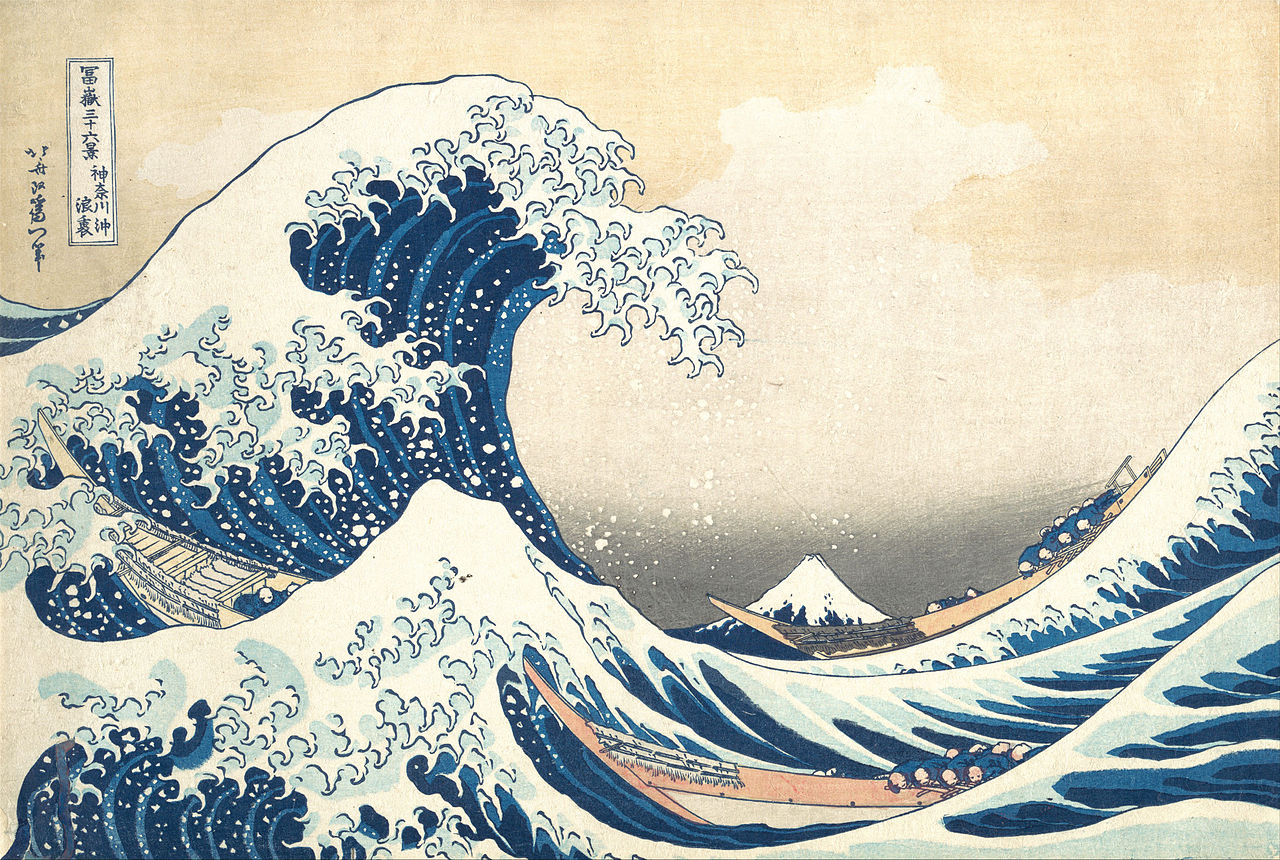 Chinese:
神奈川冲浪(The Great Wave off Kanagawa)是熊最喜欢的一副画。当我临摹时,最大的感受就是人在天地间和自然中是多么渺小,微弱。为了生存竭尽全力。这可能再次印证了浮世绘的初衷"lamentable world".
在wiki的介绍中,我学到了更多。
神奈川冲浪里是日本浮世绘画家葛饰北斋的著名木版画,于1832年出版,是《富岳三十六景》系列作品之一。它描述巨浪威胁神奈川冲(神奈川外海)的船隻,与该系列的其它作品一样,以富士山为背景。图中描绘的惊涛巨浪掀卷著渔船,船工们爲了生存而努力抗争的图像,远景是富士山。这幅作品是北斋最有名的作品,也是世界上最有名的日本美术作品之一。
将本来雄伟的富士山画得很小,和前景的巨浪形成了鲜明的对比。
地平线附近的暗色和仿佛被照亮的,被雪覆盖的山顶,表达了现在是清晨,而太阳是从观赏者这侧升起的。上空的积雨云让人感觉现在应该有暴风雨,然而画中却并没有下雨。画面中描绘了3只被巨浪翻弄的船。这些船是当时运送活鱼的押送船。
船上有8名抱紧船桨的划船手,在船头还能看到2名以上的乘客,画面中大约有30人。人们僵直在船中,和运动的浪形成对比。画面截取了大海波涛汹涌,风大浪高的瞬间。构图中大浪的曲线描绘成弧形,令富士山成为这弧形的中心。浪尖飞散出的浪花四溅,仿佛降在富士山的雪。最后面的船和浪高几乎相等,押送船一般长约12到15米,北斋将垂直高度伸长了30%左右,因此推测浪高应在10到12米。
有人认为这个巨浪就是海啸。这个解释最早可以追溯到1960年代。再之前的130年中,都认为是通常常见的大浪。因为北斋生活的年代中,关东、关西均没有大的波浪发生过,因此有可能是听说过1792年在九州发生的肥后迷惑的情况后创作的。但是本作品中描绘的大浪并不是缩短波长的海啸。
荷兰后印象派画家梵高非常赞赏这幅画。《神奈川冲浪里》也给予了其他艺术家不同程度的影响。